The Soccer Place is known as the place to GO for Kids Academy, Summer Camp, Rental-by-the-hour, Tournaments, Leagues and Special Events Celebration. As part of our services the owner and general manager Jorge Molli, organizes the kid's camp, clinics, special event activities on the court, along with birthday parties, corporate championships and other various day-to-day operations of the facility.
The Soccer Academy is available for boys and girls ages 4 to 16 years old. Classes are offered Mondays to Fridays from pm 4 to 7 pm. Team games are held on weekends. The Academy is coached by a certified professional.
Summer Camp starts as soon as school is out Monday thru Friday from 8am to 4pm. The camp is gear towards building confidence in the field by improving individual techniques using professional training equipment and providing special attention to your child's potential and talent. It is essential to the academy to promote team afford and unity therefore, we provide each player with a team jersey as they focus towards the same objective. Our Camp gives the kids a change to exercise in a controlled environment where they can improve their interpersonal relationship with their peers while learning the skills of the game. There is No Registration fees and payments can be applied weekly or monthly.
Celebrate Birthday Parties and Special Events at The Soccer Place and invite as many friends and family as you like. Kids play freely while burning energy. We help you to have a fun, easy, convenient and stress-free event. Available on weekends offering flexible by-the-hour schedules.
Rentals-by-the-hour is scheduled after 6pm every day for your convenience. Gather 10 of your friends and reserve your weekly hour(s) we will provide identifying team vests. Soccer is recommended as a successful cardiovascular exercise. Have fun and stay healthy by playing the game you love.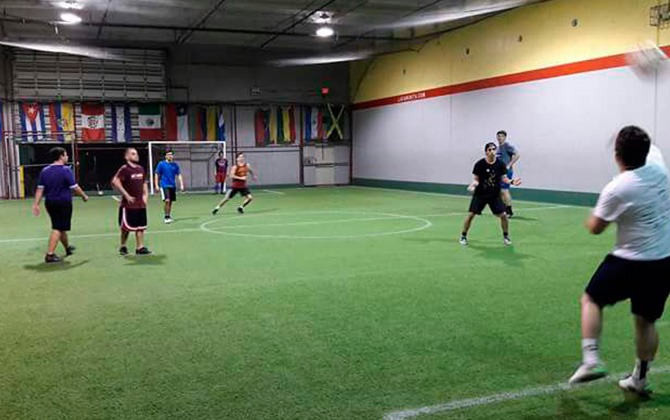 Tournaments are organized with the participation of professional referees rewarding the winners with trophies, sporting goods and cash prices. The championships range from 6 to 18 teams of 10 players per team. Playing all vs. all assures the most games possible for every team. Bring your friends and family and enjoy their company as they can watch you play in a comfortable friendly atmosphere. Corporate tournament are a great incentives for your employees and/or coworkers as we can organize the teams and game times for your group.